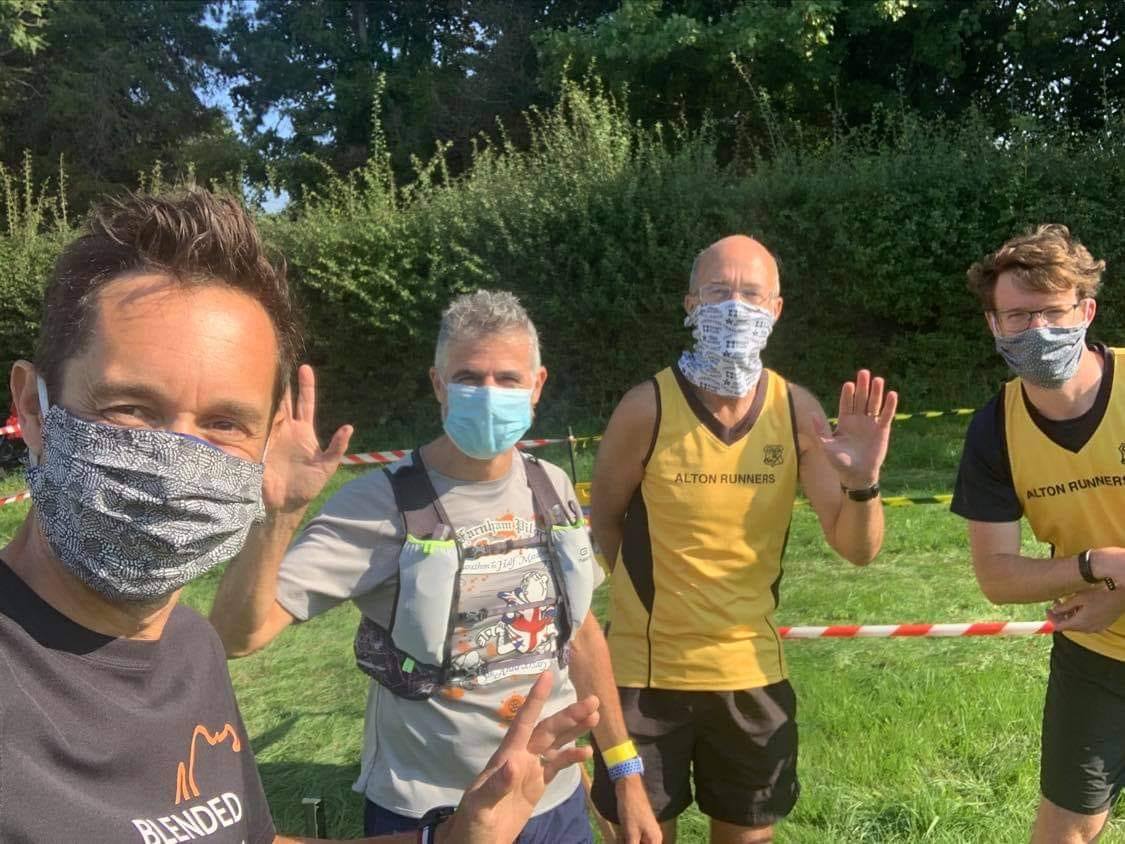 Whilst many have taken up or rekindled a love of running during the period of Lockdown, it's fair to say that the world of competitive racing was put firmly on hold. September, however, saw the beginning of a new-look race season with an increasing number of events taking place, albeit in a slightly new format. Among these was the Farnham Pilgrim marathon and half marathon, well known and loved for being one of the most scenic, friendly and hilly races on offer. With breathtaking views across Surrey from St Martha's Church and Pewley Down, carrying runners along the North Downs Way, the pilgrimage ends with a punishing final mile uphill.
Whilst the route remained largely the same, for the 20+ Alton Runners participating in the half and full marathon, things looked a little different on the start line, as Jim Armitage recalls "the Pilgrim marathon and half marathon organisers went to great lengths to put on a COVID secure event with waves of 12 runners who had to wear face coverings until they started running. Even the start line was set out in a way that we could still keep 2m apart. Given that it wasn't a mass start event I was pleased to see three familiar faces (other than their face coverings!) from Alton Runners at the start line. I ran off from the start line to lead our group but it wasn't long before Ollie caught up with me. We ran along together (2m apart) for about half a mile then he surged off and I didn't see him again until the finish line."
Far from a hindrance, fellow runner, Ollie Steele-Perkins feels the starting time slots may have helped him on the day "it felt like a time trial as we went off in small groups and I found myself at the front (not often the case with running unless I'm on my own!) but that meant I was running hard and focussing on the signposting. It was a great example of an adapted event and I got a half marathon pb coming 16th overall"
Without the larger numbers of people to run alongside, some found the signage tough to follow, as Adrian Lambeth explains "there were fewer marshals on the course this year so we had to self-navigate. Even though there was good signage, I have no sense of direction and infamously once got lost on a parkrun. I heard more than a few people took a wrong turn on the day". Although Adrian managed to stay on route, he had an 'alarming' challenge of his own at the outset "this year we were required to take our phones out with us. Just as we set off my morning alarm went off so I got to listen to that for the first 10 minutes of the run - and no I wasn't going to stop and try and sort it out!". Luckily for Adrian it didn't put him off his stride and he crossed the marathon finish line in 3 hours 39 minutes, earning him a pb and 12th place overall.
Another runner with challenges of his own was Dave Molyneux who was no fan of the glorious sunshine on race day "24 degrees is not my ideal temperature and it didn't help that I also had a heavy fall midway through the half marathon… getting to the end was my biggest achievement on race day!".
Someone who found race day conditions particularly favourable was Alex Hall "It was great to be taking part in a race again after 8 months and I've been longing for that race day feeling again! I set myself a pretty tough goal of completing the course in under 1h 30m, and both my practise runs were both 5+ minutes out - so I was hoping race day mentality would set in on the day. I managed to hit my goal with a time of 1:29:41 and that placed me in 2nd place overall and 1st in my age category - It's probably by greatest achievement in my 2 years of running!". Alex's talents are gaining recognition and for this event he received extra coaching and sponsorship from Bitcoin Runners.
Crossing the line hours later was Alton Runner Kat Barrett and, whilst a four hour half marathon time may not at first appear a huge achievement, take into account the fact that Kat was 9 months pregnant and suddenly those 13.1 miles seem a colossal distance. With her husband on standby in case Baby Barrett made an appearance, Kat explained why the race was important to her "I run long distances anyway so walking that far seemed a doable challenge and the chance to take part in one of only a few organised races this year was too good to let pass! The best aspect was that I got to see pretty much everyone come past (quite literally as I was last!) and to cheer them on. The camaraderie and support was amazing. The only downside was the lack of picnic aid stations due to the Covid restrictions!"
Someone with her mind on an even longer distance was first time marathon-runner, Bianca Junge "It was a tough marathon! The first half felt easy but I didn't realise that the second half was going to be mainly up hill. Running up to St. Martha's Church was hard work and it was so difficult to run in sand up a steep hill. Now I understand why the Farnham Pilgrim marathon is one of the hardest trail marathons in England! The views at the top were breathtaking though, so it was worth the effort. The highlight of the marathon was seeing my clubmates along the route and I can't thank coach Jeff and club mate Vanessa enough for the effort they put into setting up pop aid stations - their cheering on & support kept me going until the end." Bianca wasn't the only one to appreciate their efforts and many fellow club members took advantage of the opportunity to refill, as Phillip Scrase agrees "It was great to have the support of Jeff Smart and Vanessa Edworthy who had setup a food stop with about 10k to go – this definitely helped me get to the finish line!"
Being part of a running club is a unique experience and even though the start had been staggered there had been many months of training together to support runners on the day, as Amy MacLucas says "whenever I needed to dig really deep, I could hear people's kind words, advice and encouragement ringing around in my head and it helped me to push through. The support that I've received from being part of Alton Runners has been incredible. Everyone is so friendly and supportive, it was amazing to see a smattering of yellow vests and smiling faces through the run and it was an incredibly powerful motivator for me to keep going"
For more information www.altonrunners.co.uk