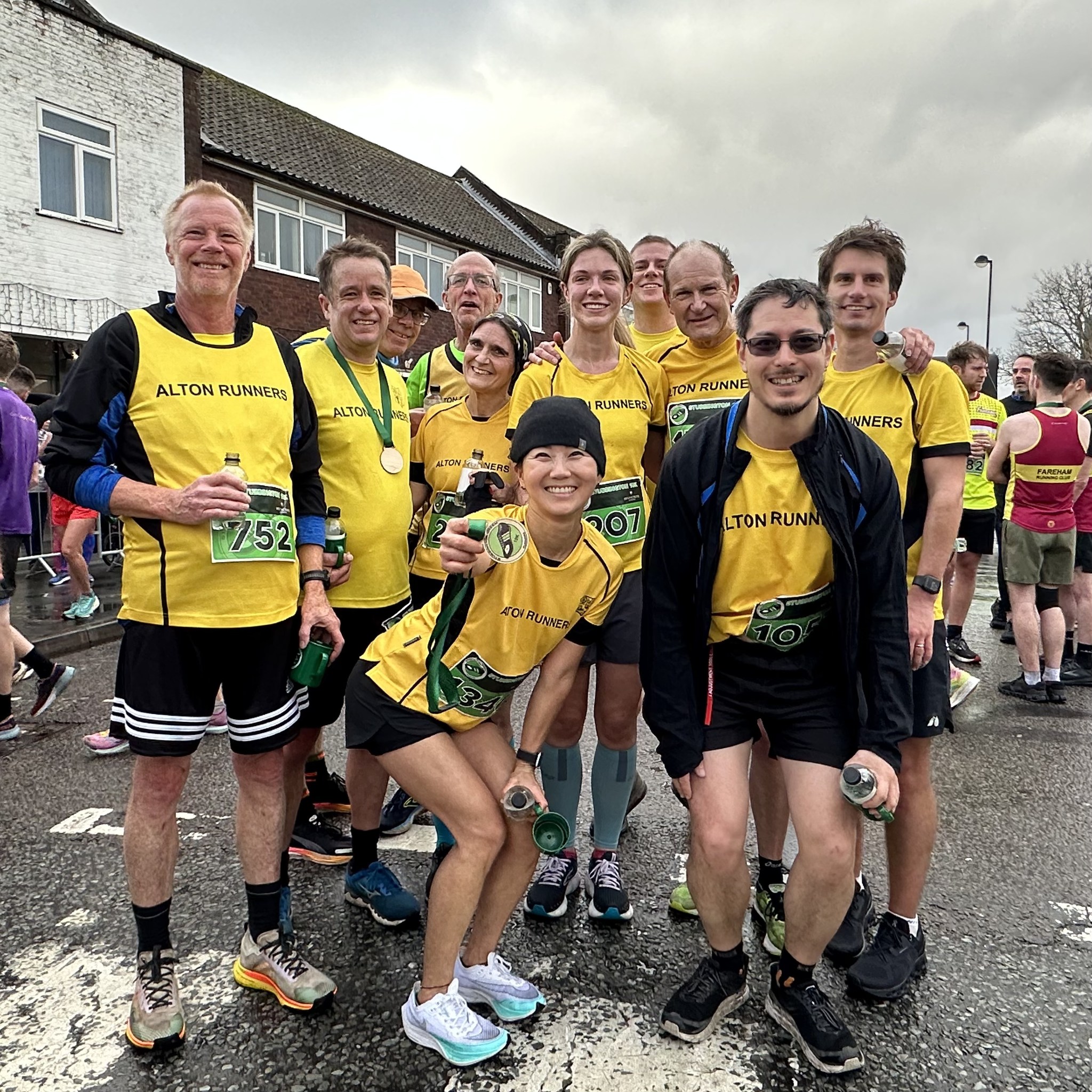 1,764 runners from over 50 clubs across Hampshire turned up for the annual Stubbington 10k race on Sunday 9th January 2023. A firm favourite among local running clubs and organized by Stubbington Green Runners, this course is known for being fast and flat and is often viewed as an ideal way to get a baseline 10k time at the start of the year. The route has had a few deviations this year but still took in the beautiful views of the Solent and surrounding villages.
Alton Runners had 34 club members complete the race, the biggest turnout for an HRRl race in 12 years, and despite it being a wet and windy day, positive attitudes were the order of the day as many club members set out to beat their current PBs. Club chairman Jim Armitage commented " As we were standing at the start line, the heavens opened, and we got soaked but only for a few seconds. This year's course was different to previous years due to the new Stubbington bypass which opened last year. I am not a big fan of the new course though. It started on a closed road, but soon we had to run along a narrow footpath at the side of a busy main road. After a couple of miles or so though it opened out as we passed by the Daedalus airfield. After that, we had a bit of Deja Vue as the course followed roads we ran just a couple of months ago in the Gosport half marathon."
Andrew Tarrant also commented on the new course, saying "It's a fantastic course, a bit narrow at the beginning and we started gradually, but I found my rhythm and enjoyed it. All the Alton Runners did really well."
With Alex Hall pacing him to the 5k point, James Perrett took the Men's first place for Alton, followed closely by Alex Hall and Sam Larcombe in 3rd. In the Women's team, Rachel Walsh came in first, followed by Kat Barratt and Esther Park in second and third places.
Other runners had mixed reactions to their race times, with many club members starting training for other events in the year. Adrian Lambeth was delighted to achieve a sub-45 10k time despite running a challenging 50k just two weeks ago and counting it towards the first part of his training for the 100k Serpent Trail race in the summer. Patrick Tuite, expressed a little frustration at being just 13 seconds over his 50-minute target but harboured no dampened spirits. Other runners offered winning strategies for racing on a windy day; Diane Byrne confessed to 'finding somebody taller and hiding behind them' as she ran. A plan that clearly works as Diane also scooped up a sub-50-minute race time.
The next race in the HRRL season is Ryde 10 mile on 5th February 2023.
Report by Joanne Scawn
Photo by Richard Taylor