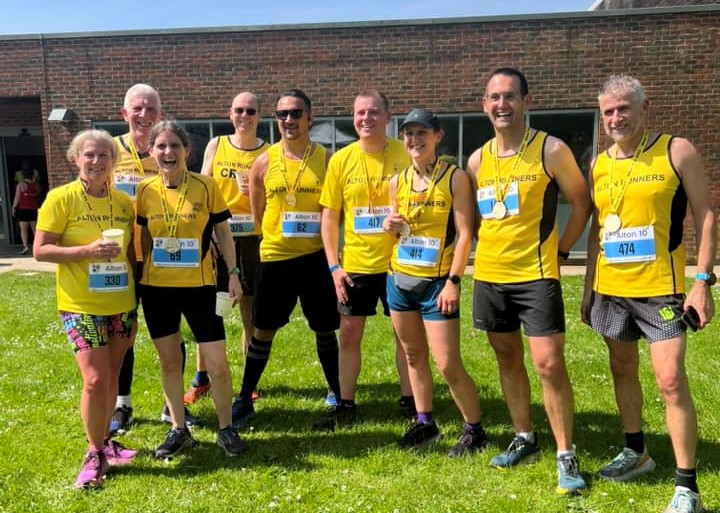 The 2022/23 Hampshire Road Race League season finished with Lordshill 10km earlier this month. The full results can be found at https://hrrl.z33.web.core.windows.net/default.htm but here is a breakdown of how the club got on.
The mens A and B teams both showed they belong in division 1 by coming 4th overall in their respective leagues! The runners making up these teams changed each race as there was some really close racing which is great to see.
The ladies A team came 9th in division 1 so will unfortunately be relegated but I'm sure we will change that next season! The ladies B team also came 9th in division 1 this season as they have struggled to get a complete team (4 runners) in most of the races.
Race participation was high again this year with 80 Alton Runners taking part in 1 or more races, this included some new faces and meant there was always a sea of yellow tops at each race! 13 men completed 6 or more races, in league position order they are: James Perrett, Alex Hall, Thomas Skentos, Richard Webley, Steve Drysdale, Alistair Smith, Andrew Hook, Christian Coles, Andrew Tarrant, Patrick Tuite, Richard Bacon, Jim Armitage and Darren Mansfield. Five ladies completed 6 or more race and they are: Rachel Walsh, Diane Byrne, Jane Scrase, Abbie Hook and Lydia Andrews.
We had 4 runners complete all 12 races this year, these are Christian Coles, Jane Scrase, Jim Armitage and Thomas Skentos. They will all receive a t-shirt from the league to celebrate their commitment.
The 2023/24 HRRL season kicks off with Overton 5 miles on the 3rd September. Entries are now open at https://overtonharriers.org.uk/overton-5. We will keep you updated as other races open their entries.
James Perrett and Rachel Walsh
Male and Female Club Captains